It happens in a split second...
Accidents happen. Imagine knocking over a glass, or if you gig with yours, somebody accidentally spilling a drink on your prized Maschine.
Just think of the pain you would feel in your chest as you watch the liquid dripping down between the knobs and the pads.
Here's the scary thing—it happens more often than you think.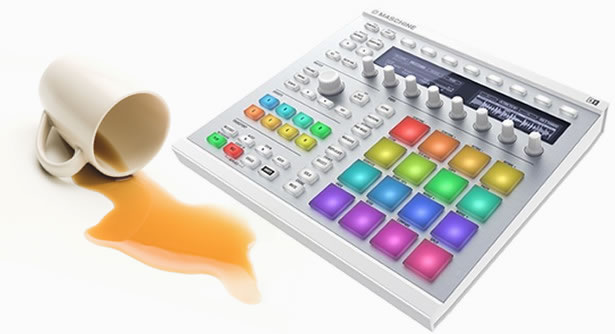 Our customers say...
"Just wanted to say that I got my Skin and it fits really good. No real problem with any of the buttons or anything. Pads work just the same. Very impressed and what a great idea."
Michael T
"If you're looking for something to protect your Maschine whilst letting you play it, this is definitely something to check out."
A Chellman
A protective layer of silicone to protect your MASCHINE
Skin is a thin layer of tough silicone specifically designed to protect your Maschine. It completely covers Machine, under the knobs and over the pads, so it is impossible for liquids or dirt to spill in the cracks.
There are other Maschine covers out there. There are hard cases that prevent any live jamming. There are covers with holes for the pads, buttons and knobs. They come in cool colors, but stuff can still spill in the cracks.
Skin is a better idea. Whether at home or in the club, your Maschine is exposed to dust and dirt and can get all kinds of stuff spilled on it.
Skin is made of thin silicone that is extremely durable, yet incredibly pliable, and covers the whole surface. It even goes under the knobs for a tight seal. It keeps any dust, dirt and liquids from getting down inside, and prevent nasty scratches from marring the outside. Don't worry - Skin is so thin that your pads are still velocity sensitive.
You spent some decent coin to get your Maschine. Skin protects your investment.