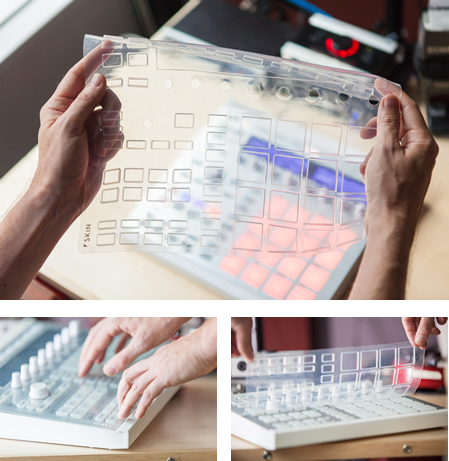 Skin is made of thin silicone that is extremely durable, yet incredibly pliable, and covers the whole surface of your Maschine. It even goes under the knobs for a tight seal!
Skin keeps any dust, dirt and liquids from getting inside Maschine, and prevents nasty scratches from marring the outside.
Designed to be on at all times. Whether in the studio or on the road Skin protects when using Maschine. It's so thin that your drum pads are still velocity sensitive.
Transparent. It doesn't get in the way of you seeing the screen or Maschines labels.
Fits like a glove. We made a scan of Maschines surface so Skin could fits tight over every contour. To ensure the knobs work perfectly we've tapered the silicone to let them sit into Skin. The silicone sits right under the knobs creating a natural seal.